How to Practice Yoga Simply at Home in 3 – 5 Minutes
So you want to practice simple yoga at home in 3-5 minutes?
Try one or more sun salutation A series, as it is a complete sequence that includes almost all the types of postures in yoga : standing, balancing, forward bending, backward bending, and inverting. Because the sun salute links these different types of postures together in a rhythmic sequence, it gives you almost all the benefits of yoga in a short and sweet package. It only lacks seated and twisting postures, as you can always do corpse pose / shavasana as a reclining posture at the end.
Don't scoff at practicing yoga for just 3-5 minutes a day. Studies show that practicing 5 minutes of yoga daily is better than 35 minutes once a week.
Besides, you can really squeeze a sun salutation into your day no matter how busy you are. And because there's minimal touching of the floor, perhaps you can also practice it almost anywhere–like in line at the post office or in a big elevator on your way up to the 80th floor. (If you get yourself on camera throwing down a sun salute in the middle of your day in a public place, let me know–I'll be sure to feature you on my blog!)
Watch the video below to learn how you can practice yoga at home in three to five minutes: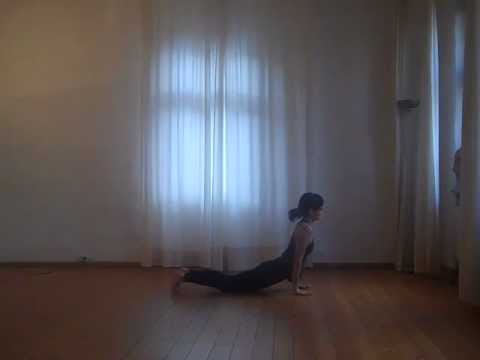 ACTION STEPS:
1. Try the sun salute during your next break at work or at home.
2. If you like it, schedule it into your planning for 2012, just like any other project you want to do.
Any other questions about yoga, meditation, or healthy living keep you up at night?
Let me know and I'll answer you in next Thursday's Q and A.
xoxo,
Bettina
Related Posts
Category: Active Hands Yoga, Active Hands Yoga TV, Yoga Solutions ⇔ Tags: at home yoga, at home yoga practice, short yoga practice, sun salutation, video, yoga ⇔ No Comments