When I was traveling alone in India for 2 months, I met a real live guru by accident when I stopped by a temple called Dhyanalinga. On Sunday he will be speaking live in Berlin! If you want to win a free ticket to see him live, keep reading until the last paragraph to find out how to win.
I meant to stay one night at the Dhyanalinga temple but I ended spending probably two weeks there.
Why go out of my way by a few hours to Coimbatore to visit a temple I found on the internet?
Because at that time I had been reading David Gordon White's book about medieval yogi alchemists, and so my mind was curious about alchemical yoga where "power" substances like mercury and cinnabar were used to try to turn a human body into metaphysical gold. Mercury at room temperature is liquid, but one thing medieval yogis tried to do was to solidify mercury at room temperature.
So while researching south Indian temples, my interest was piqued by the solid mercury lingam (in short, an ovoid statue) at the water tank outside of Dhyanalinga. I wanted to see the temple, stay one night, and be on my way to Bangalore.
When I arrived at Isha Yoga Center, where Dhyanalinga temple is, I felt so much care and attention paid to the temple and the grounds around it that I decided to stay longer. At first I was there just for temples, as there were more than one temples at the ashram. Then I got curious about the man who leads the ashram and who built the temples, Sadhguru. As there were many of his books around, I started reading one. And then another. Eventually I signed up for a weekend of Inner Engineering, the introductory meditation course. I never made it to Bangalore, and I don't regret it.
Sadhguru is quite prolific on Youtube. Below I've embedded one of his talks below: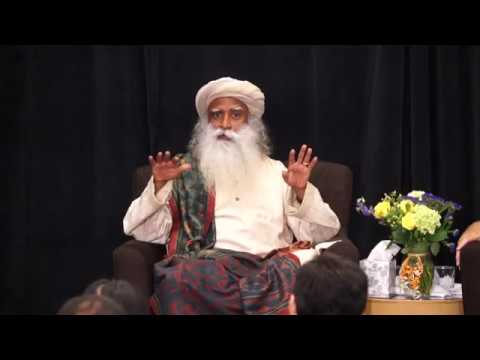 Why haven't I blogged about Sadhguru yet?
I'm wary of gurus. I know how many gurus or yogic leaders have abused their power, so I hesitate to recommend one. My approach to Sadhguru is the same as my approach to yoga : try it and see for yourself. If it works for you, keep going. If it doesn't do anything for you, drop it. Try it as an experiment.
And this Sunday Sadhguru will be speaking in Berlin…and I have a FREE ticket to give away. To enter, just write a comment at the end of the blog post. I will pick a winner on Saturday night and notify the winner via email.
Photo from Isha
Category: Active Hands Yoga ⇔ Tags: berlin, sadhguru ⇔ No Comments